THE 12TH SHARE POLICY DIALOGUE WILL BE HELD BETWEEN THE 27TH & 29TH OF JULY 2021
English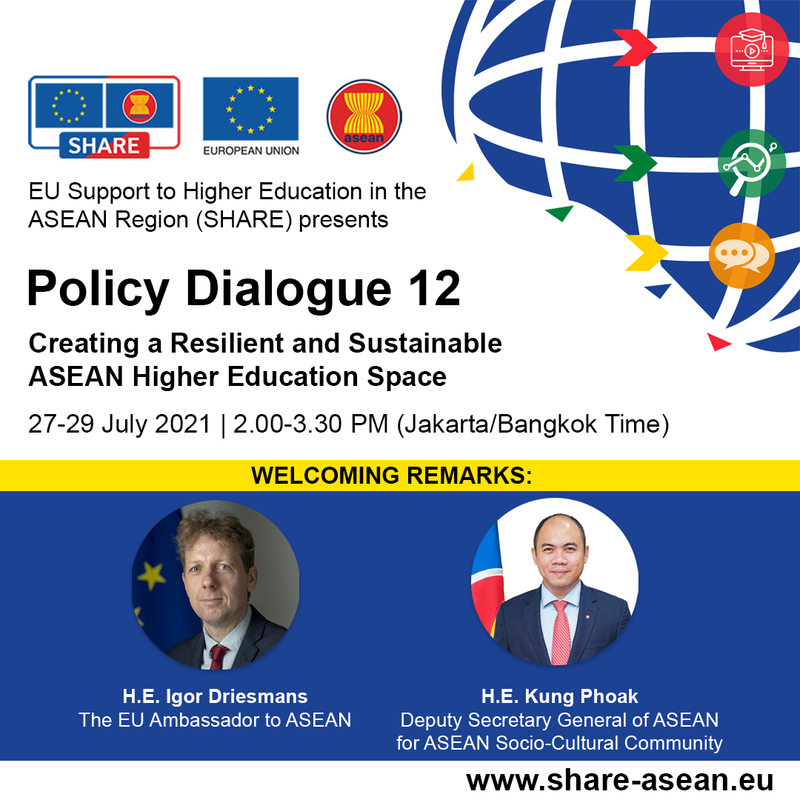 The SHARE Programme is pleased to announce that its twelfth Policy Dialogue "Creating a Resilient & Sustainable ASEAN Higher Education Space"  will be held online between the 27th and 29th of July 2021. The sessions to be run over the course of three days provide a valuable opportunity to engage with key stakeholders from the ASEAN higher education community.
The new context occupied by ASEAN higher education demands greater ownership, inclusiveness, and innovation to ensure the continued resilience and sustainability of an ASEAN Higher Education Space. Within this new context, the SHARE Policy Dialogue has been designed in partnership with the ASEAN Secretariat's Education Youth and Sports Division (EYSD) as an initiation of the process of transferring SHARE's Result Areas to the ASEAN Community and its associated entities.
European Union Ambassador to ASEAN, H.E. Igor Driesmans and Deputy Secretary-General of the ASEAN Secretariat, H.E. Kung Phoak will officially open the 12th SHARE Policy Dialogue on July 27th!
Join the discussions live via the SHARE YouTube page through the link: HERE. Stay tuned for further details!