SHARE POLICY DIALOGUE 12 PANELS
English
The SHARE Programme presents the full list of panel discussions of the 12th SHARE Policy Dialogue!
On 27 July, we will be having the first discussion entitled "Engaging Regional Partners for a Harmonised ASEAN Higher Education Space."
We look forward to welcoming the ASEAN Deputy Secretary-General for the ASEAN Socio-Cultural Community, H.E. Kung Phoak, the Centre Director of SEAMEO RIHED, Dr. Romyen Kosaikanont, the Executive Director of the ASEAN University Network (AUN), Dr. Choltis Dhirathiti, and the Senior Director for Policy and Expertise Development Subsector of Malaysia Qualification Agency, Mr. Mohamad Dzafir Mustafa to the panel! Mr. Michael Hoerig, DAAD's Head of Strategic Planning Division, will moderate the discussion.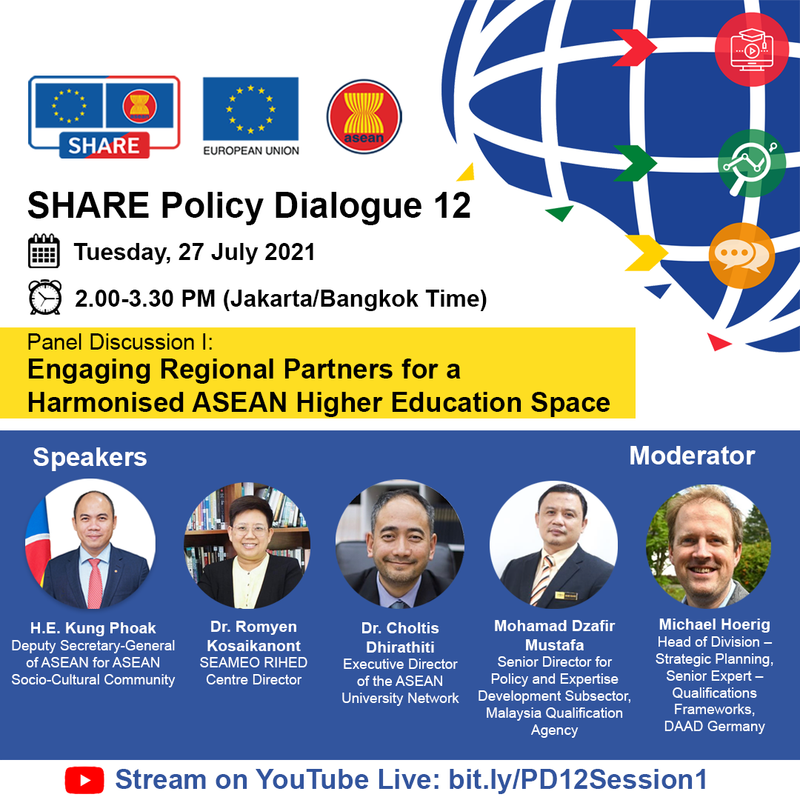 On 28 July, we will have the second session focusing on "Future Proofing International Higher Education Student Mobility."
We are pleased to welcome the Senior Partner of Knowledge Innovation Centre, Anthony Camilleri, the CEO & Co-founder of Accredify, Mr. Zheng Wei Quah, the Vice-Director of Institute for Innovative Global Education (IIGE) at Kansai University, Dr. Keiko Ikeda, and the the Director of International Relations Centre at the Universiti Kebangsaan Malaysia (UKM) Global, Dr. Abdul Latiff Ahmad join the panel. Mr. Darren McDermott, the SHARE Team Leader will moderate the discussion.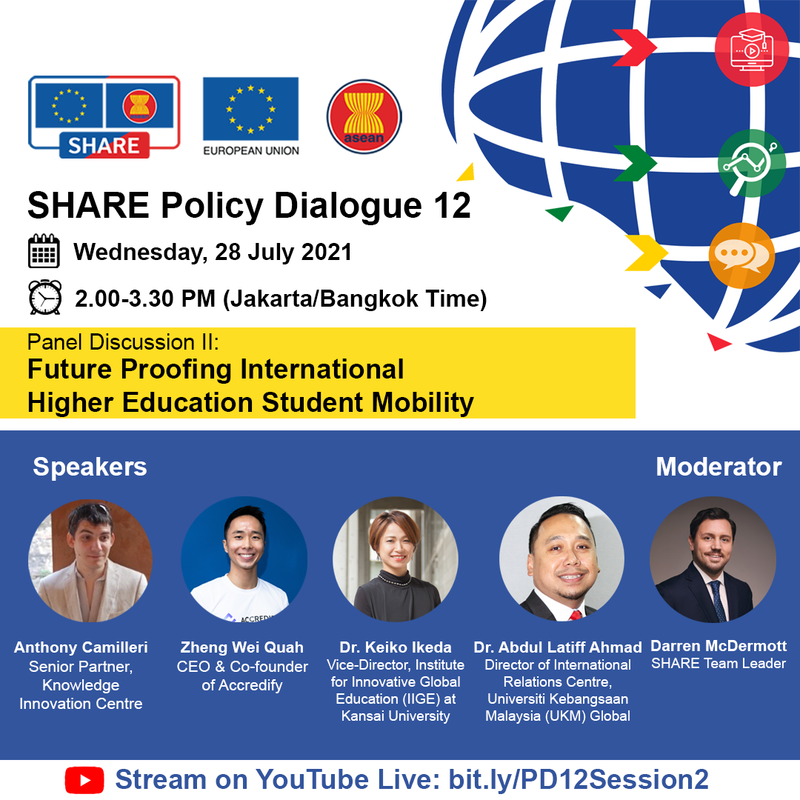 On the third and final day of the Policy Dialogue 12, the SHARE Programme will introduce a panel discussion focusing on "Equity, Diversity, and Inclusion in ASEAN's Internationalisation."
We are pleased to invite to the panel Ms. Rodora Babaran, Director of Human Development Directorate of the ASEAN Secretariat; Dr. Wesley Teter, Senior Consultant of the Asia-Pacific Regional Bureau for Education, UNESCO Bangkok; Ms. Raudhah Nazran, CEO & Founder of Accelerate Global; and Dr. Yang Mee Eng, Executive Director of the ASEAN Foundation. Ms. Leonie Nagarajan, Director of the Education Department at the Asia-Europe Foundation (ASEF) will be the moderator for the discussion.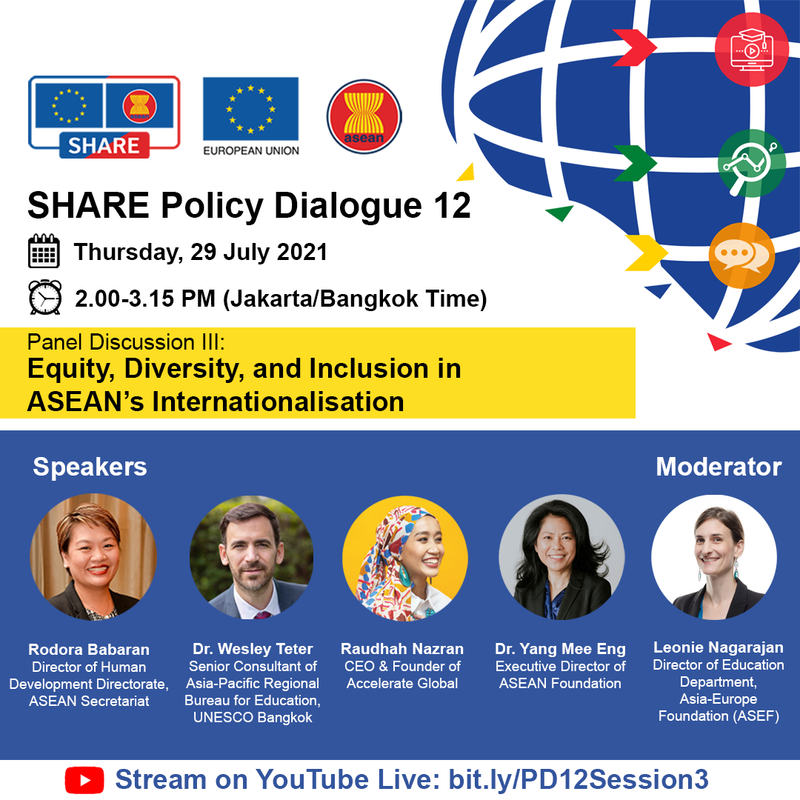 These discussions are live on YouTube and open for public! Don't forget to join and subscribe to our channel!